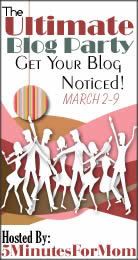 I don't have a lot of time to blog this week with the time I'm spending at work, but I wanted to make sure I participated in this blog party because I love the idea.
It is being hosted by one of my favorite blogs which I visit regularly . . .
5 Minutes for Mom
Take a moment and check it out. It is a great way to find some wonderful new blogs and you can even win prizes if you participate. Many of the prizes have been contributed by those participating in the blog party.
Let the party get started!!!